News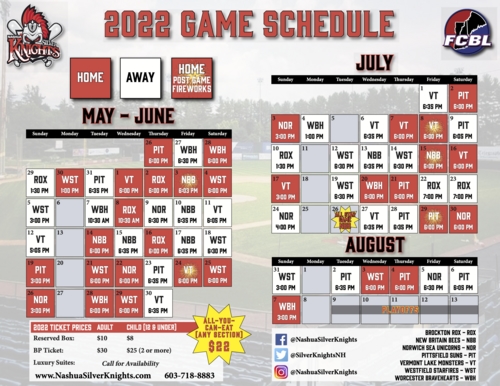 December 14, 2021
The Futures Collegiate Baseball League of New England has announced the 2022 regular season schedule. The Silver Knights' twelfth season will open on Thursday, May 26, 2022.
The Silver Knights will host the Pittsfield Suns on Thursday night, May 26, to kick off the 2022 season. The home opener will be the first of six Thursday night games throughout the season which will once again feature the Thirsty Thursday promotion. On May 30 at 1pm, the Silver Knights will host the Westfield Starfires for their first-ever Memorial Day matinée game.
The Silver Knights are excited to welcome local schools and their students back to Holman Stadium on June 8 at 11am for the return of Education Day.
Nashua will host its first Friday Night Fireworks show on 603 Day, June 3, against the New Britain Bees. The Silver Knights will also have post-game Fireworks on June 24, July 8, July 15, and July 29. Friday night games - and all Monday through Saturday evening games - will begin at 6pm in 2022. Sunday home games will start at 3pm and Kids Club members can get in for free for all five Sunday games. To register your child for a free Kids Club membership, click here. Start times for away games will be announced in the spring.
On Tuesday, July 26, the league will gather in New Britain as the Bees host the 2022 FCBL All-Star Game for the second consecutive year. Tickets for the even can be purchased through the New Britain Bees.
The 2022 Futures League will see the return of all eight teams: the Brockton Rox, Nashua Silver Knights, New Britain Bees, Norwich Sea Unicorns, Pittsfield Suns, Westifled Starfires, Worcester Bravehearts, and the defending champion Vermont Lake Monsters. The regular season will now feature 64 games, with 32 home and 32 away. Similar to last season, Mondays will be off days unless make up games are needed due to weather.
The playoffs to determine the 2022 FCBL Champion are expected to begin after the conclusion of the regular season on Sunday, August 7. Four teams will qualify for the playoffs, with both the semifinal and championship rounds being contested as best-of-three series. The four teams will be determined by the best regular season records.
New ticket options for the 2022 Silver Knights season include BP Tickets where fans can take batting practice on-field before the game, and All-You-Can-Eat Tickets. AYCE Tickets can be redeemed for all-you-can-eat burgers, hot dogs, grilled chicken sandwiches, chips, and unlimited fountain drinks. These new ticket options, season tickets, group outings, suites and flex packs are now on sale by calling the Silver Knights office at 603-718-8883.
Click here to view and download the complete 2022 schedule. Please note game times are subject to change. Makre sure to follow the Silver Knights on social media to stay up to date.