News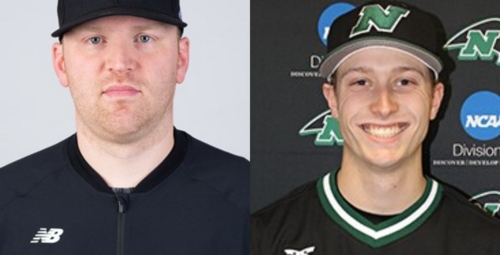 October 22, 2021
The Nashua Silver Knights have made two additions to their coaching staff for the upcoming 2022 season. Andy Theriault, a former professional independent baseball player, returns to the Futures League after four seasons in Brockton. Brendan Martin will be making his debut coaching in the FCBL. They will both be joining the Silver Knights Head Coach, Kyle Jackson, who is entering his 9th season with the organization.
"I'm excited to have the opportunity to work with Andy and Brendan this summer," Jackson said. "Andy brings a wealth of experience to the staff from his time in Brockton, with a lot of fresh ideas for Nashua to improve on during the season."
Theriault started his college playing career at Castleton University before transferring to Southern New Hampshire University. Following college, Theriault played with the North Shore Spirit, a professional independent baseball team in the Can-Am League.
In 2017, Theriault became a member of the coaching staff for FCBL opponent Brockton Rox. Prior to the 2019 season, Theriault was elevated to manager of the Rox. Theriault was also the assistant coach at Plymouth State for two seasons before landing his current position as the assistant coach for Saint Joseph's College of Maine.
"As a veteran coach in the Futures League, I am aware of the tradition, culture, and expectations of the Nashua Silver Knights," said Theriault. "I am beyond excited to help continue the success created by the Creedon family, Cam Cook, Katie Arend, and Kyle Jackson. I look forward to summer nights at Historic Holman Stadium and the pursuit of championship number 6 for the best fans in all of summer collegiate baseball!"
Joining Theriault on the staff is Nashua-native, Brendan Martin. A former Nashua High School North standout, Martin saw success playing at the Division III level. As an infielder at Nichols College, Martin was named to the Commonwealth Coast Conference (CCC) Third Team in 2016. Martin currently teaches at Nashua High School South and has spent the last three seasons as an assistant coach for South's baseball team.
The Silver Knights are excited to welcome Andy Theriault and Brendan Martin to the coaching staff and look forward to their immediate impact on the 2022 season. "A point of emphasis this off season was to create a well-rounded coaching staff," said General Manager Cam Cook. "Andy has proven success in the FCBL, and he complements Kyle very well, giving us great baseball minds on the mound, behind the plate, and in the box. Brendan is an excellent clubhouse presence; he's very likeable and approachable for our players and will be able to take some things off Kyle and Andy's plates for them to focus on in-game moves. 2022 is going to be a very fun summer all the way around, and everyone within the organization is looking forward to it."