News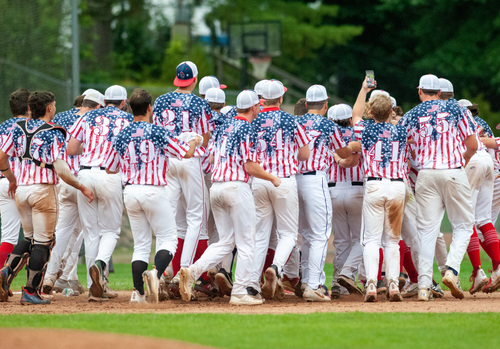 Friday, August 13, 2021
By Mark Colley | Silver Knights media relations | @markcolley on Twitter
The Nashua Silver Knights ended their 2021 season with a 10-1 loss to the Worcester Bravehearts on Friday, failing to keep Worcester off the basepaths in a game that got away in the later innings.
Worcester got out to an early 1-0 lead in the first inning with a single, double and sacrifice fly but the Silver Knights tied the game in the third. Lucas Carmichael singled before Greg Bozzo and Brandon Fish walked to load the bases. Jack Penney drove in the run on a sac fly.
The Bravehearts would score two more in the fourth and fifth innings, but with Nashua down by two, Worcester scored five runs in the sixth to take an 8-1 lead. They would tack on two more in the bottom of the eighth.
Patrick Casserly led the way in a quiet night for the Nashua offense, going two-for-four with two singles. Kevin Skagerlind was the only other Silver Knight to reach base twice with two walks.
Starter Aidan Crowley struggled, giving up three runs in 4.1 innings, but the brunt of the loss fell on the bullpen, which allowed seven runs over 3.2 innings. After playing six games in four days, the strain on Nashua's relievers showed.
The loss marks the end of a successful second half for the Silver Knights, who went 16-15 after a slow start to the season. Nashua ends the season in sixth place.