News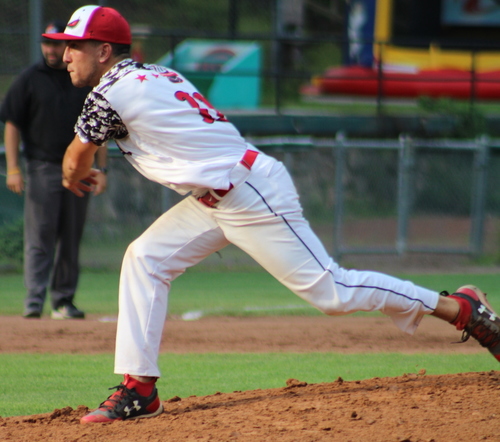 Tuesday, August 10, 2021
By Mark Colley | Silver Knights media relations | @markcolley on Twitter
Nick Guarino and the Nashua Silver Knights' pitching staff led the way to a doubleheader sweep against the New Britain Bees on Tuesday, ending Nashua's four-game losing streak with the best pitching performance of the season.
Guarino pitched a complete-game shutout in game one, which the Silver Knights won 3-0 in seven innings. In game two, Shea Ryan gave up two runs and struck out six batters en route to a 3-2 win.
Guarino's seven-inning, four-hit, five-strikeout performance — his longest outing of the season — continued a stretch of dominance for the pitcher, who was named to the Futures League Team of the Month for July and a finalist for the league's Pitcher of the Year award.
"It means a lot," Guarino said of the recognition. "It's nice to kind of settle back in and get in a groove."
In his last six outings, Guarino has a 0.88 ERA. He's also pitched 20 consecutive scoreless innings dating back to July 18.
Guarino's last loss came on June 23, when he started in the second game of a doubleheader and gave up eight runs in two innings to the Vermont Lake Monsters.
According to manager Kyle Jackson, Guarino said after that game that he would never pitch in the second game of a doubleheader again because the opposing team's bats are already hot. Starting the first game on Tuesday avoided that issue and paid off in spades.
"He set the tone," Jackson said. "Throwing strikes, getting outs, getting out of a couple jams."
It was only the second complete game thrown by a Silver Knights pitcher this season and is the first time the team has shut out the opposition this year.
Guarino and Ryan's outings — plus three hitless innings from relievers Gabe Driscoll and Ryan Hohmann in game two — were enough to back up a muted Nashua offense. Coming into Tuesday's game, the Silver Knights had only scored one run in the previous three games.
In game one, the Silver Knights struck first in the third inning with three singles, although Brandon Fish was thrown out at home during their first attempt at manufacturing a run with a double steal. Nashua scored again in the fifth and sixth.
By comparison, in game two, all three of the Silver Knights' runs came in the third inning on two walks, an error and a double. For a tired Nashua team, it was enough to win.
"It just looked like we were a little dead in game two," Jackson said. "I [told the team], it's just gonna take someone to get on base, whether it's a walk or a hit, just to get a little jolt of energy."
After winning eight consecutive games, the Silver Knights had lost four in a row coming into Tuesday. Jackson said the team was tired from the rigours of both streaks, especially after spending two days on the road in Vermont — the hottest team in the league.
"They definitely needed a day off [on Monday]," Jackson said. "They played hard up [in Vermont]."
The Silver Knights will be back in action on Wednesday with the third of three straight games against New Britain. Their final home games will be a doubleheader on Thursday, with game one scheduled to start at 3:00 PM.