News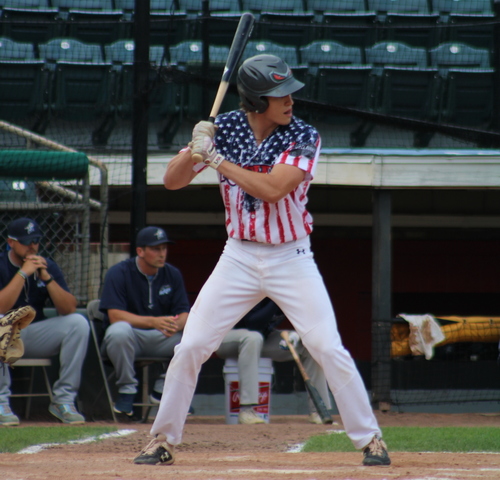 Sunday, August 8, 2021
By Mark Colley | Silver Knights media relations | @markcolley on Twitter
The Nashua Silver Knights lost 7-1 to the Vermont Lake Monsters on Sunday, dropping their third straight game against Vermont and fourth overall as the team enters the last week of the season.
The Lake Monsters, in first place in the Futures League with a 40-22 record this season, swept the weekend series from the Silver Knights, who they played on Friday, Saturday and Sunday. With their 40th win, Vermont has set a new league record for the most wins in a season.
The record surpasses the 39 games won by the 2012 Silver Knights, who won 13 straight games that season — the longest winning streak in FCBL history until earlier this season, when Vermont also broke that record by winning 14 consecutive games.
Nashua's 39 wins in 2012 came in only 52 games, while Vermont has played 62 so far this year. The league extended the season to 68 games in 2021 for the first time.
The only offense for the Silver Knights came in the top of the fifth, when Patrick Casserly led off the inning with a single and came around to score on an error by the first baseman. At the time, it put Nashua up 1-0, but Vermont would score two in the bottom half of the frame — plus one in the sixth and four in the seventh — to come away with the win.
Griffin Young was strong in his start, going 4.2 innings and giving up two runs. He struck out five and walked only one.
Both Jackson Linn and Jack Penney put together two-hit nights for Nashua after Penney collected the Silver Knights' only hit in Saturday's loss to Vermont. But it was another meager night offensively for a team that has scored only one run since August 6.
On August 5, the Silver Knights lost 9-5 to the Westfield Starfires, breaking their eight-game winning streak. It goes into the books as the second-longest winning streak in franchise history, behind only the 13-game streak from the 2012 team.
It seems an appropriate juxtaposition that, over the course of four days, Nashua has witnessed one of the best stretches in franchise history and the best team in franchise history surpassed.
They'll attempt to end their four-game slide on Tuesday, when they face the New Britain Bees in a doubleheader at Holman Stadium. Game one is scheduled to start at 3:00 PM.