News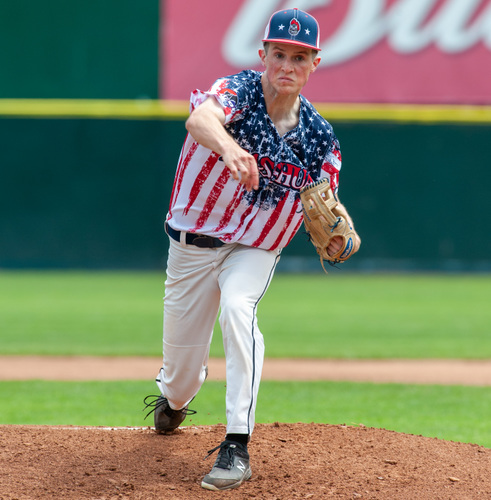 Friday, August 6, 2021
By Mark Colley | Silver Knights media relations | @markcolley on Twitter
Starter Jack Beauchesne left Friday night's game with his team down 1-0. By the end of the next half inning, the Nashua Silver Knights were losing by four.
The removal of Beauchesne from Nashua's eventual 7-0 loss to the Vermont Lake Monsters on Friday marked a turning point in the game as the Silver Knights continue to reel from losing their eight-game winning streak.
That streak, the second-longest in franchise history, ended with a 9-5 loss to the Westfield Starfires Thursday. It marked the first game since July 17 in which the Silver Knights' bullpen had given up four or more runs, a feat which was matched on Friday.
"It takes a lot out of a team to maintain an eight [game streak]. You're going 120 percent every single day," manager Kyle Jackson said. "Once you get that loss, that next day you are defeated … Everyone looked tired, because when you play eight games and you have a doubleheader and you're winning them all — winning takes a lot out of you."
Beauchesne's exit from the game came after only four innings. While he had given up a run in the first inning and left the bases loaded in the first and fourth, he retired eight consecutive batters in-between.
Jackson said Beauchesne was taken out because his pitch count was up to 74 after the fourth inning and he's close to 100 innings pitched this season, including what he pitched as a high school senior.
After the fourth, Jackson asked Beauchesne if he wanted to go out for the fifth inning. Beauchesne said his arm was tired.
"My arm was tired but I just had to grind through every at-bat," Beauchesne said after the game. "[Vermont] had long at-bats, but I just didn't want to let the guy beat me and let the run score. I gave it all I got."
While the jams Beauchesne escaped gave the Silver Knights a chance to win the game, Robbie Cobb's fifth inning put the game out of reach. Cobb gave up two home runs — including a three-run shot — to make it a 4-0 game. Vermont scored three more runs in the seventh and eighth.
The game closes the book on Beauchesne's season. He ends the year with a 2.90 ERA, the lowest among active Silver Knights starters, and a 1.85 ERA over his final five starts.
Nashua is now in the unenviable position of playing two more games this weekend against the Lake Monsters, the best team in the Futures League. Vermont has won 26 of their last 30 games and nine of their 10 games against the Silver Knights this season.
Combined with the hangover from Nashua's winning streak, it'll be a grind to win the eight remaining games this season. The battle continues on Saturday, with a 6:05 PM game in Vermont.