News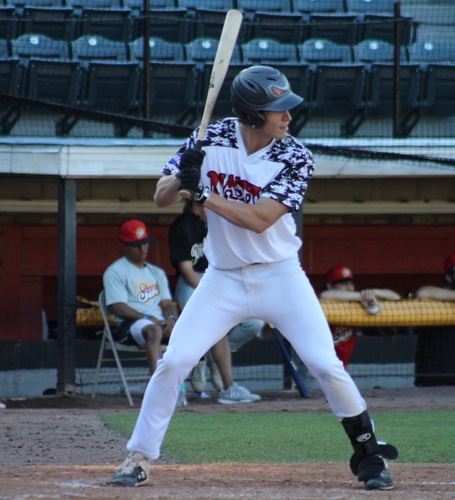 Thursday, August 5, 2021
By Mark Colley | Silver Knights media relations | @markcolley on Twitter
The second-longest winning streak in Nashua Silver Knights franchise history came to an end on Thursday, as Nashua dropped their first game in more than a week to the Westfield Starfires 9-5.
The Silver Knights came into the game riding high from eight consecutive wins, boasting a team ERA of 2.81 over that span. After more than two months spent in last place in the Futures League, the team had finally climbed into sixth in the standings.
But the success of Nashua's pitching came to an end Thursday, with a brutal fourth inning dooming the Silver Knights.
Zach Gitschier, making his first start of the season, gave up two home runs in the fourth, leaving Nashua down 5-0. But Jackson Linn hit a two-run home run in the bottom of the fourth to give the Silver Knights new life, and the team clawed within one run with a bases-clearing triple from Kevin Skagerlind in the sixth inning.
"They never feel like they're out of a game and it's been like that the whole year," manager Kyle Jackson said. "They expect to win."
The win slipped out of reach in the eighth and ninth, when Westfield scored three runs to take a four-run lead. Still, Jackson has much to be happy about. At four games back of a playoff spot with 11 games left to play, Nashua is theoretically within striking distance, even if the chances of claiming a postseason berth are next to zero.
"It gives them an opportunity to have a chance," Jackson said. "It's a good team. We came out, we hit. We just didn't capitalize on a couple things."
Those missed opportunities came in the sixth and seventh innings, when Nashua had the tying run at third base twice but failed to drive it in on both occasions. If the Silver Knights scored one of those runs, it would've tied the game 6-6; if they scored both, they would've taken the lead.
Still, it's nitpicking on a team that has turned things around and found some solace in a tough season. Even with the loss, Nashua is still 8-2 in its last 10 games.
The challenge now comes in taking on the Vermont Lake Monsters, who the Silver Knights will play three games in a row against this weekend. Vermont has won 25 of its last 29 games, including a stretch of 14 consecutive wins — the longest winning streak in league history, breaking Nashua's 13-game streak from 2012.
The weekend series will begin tomorrow with a 6:00 PM game at Holman Stadium.