News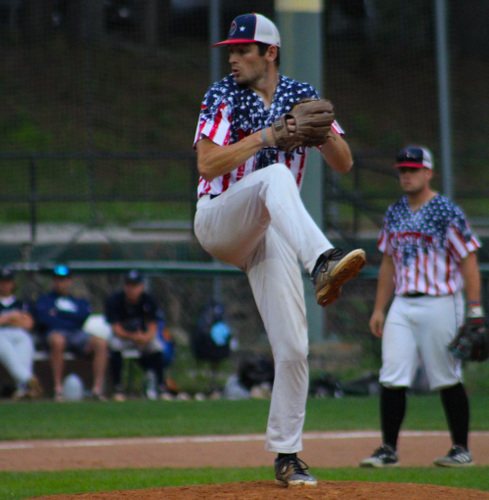 Wednesday, August 4, 2021
By Mark Colley | Silver Knights media relations | @markcolley on Twitter
The Nashua Silver Knights began the 2021 season with a four-game losing streak. They didn't win their 10th game until one day before the All-Star break. At one point, the distance in the standings between the Silver Knights and the seventh-place team was bigger than the distance between seventh place and first place.
But with barely more than a week left in the 2021 season, Nashua is on a roll.
With a doubleheader sweep of the New Britain Bees on Wednesday, the Silver Knights won their eighth straight game and jumped two teams to claim sixth in the standings. They now sit four games out of a postseason berth.
It's not so much that the Silver Knights are making a run for the playoffs, because even at four games out, they have only 10 games to make up the deficit. But it's a ringing endorsement of the adjustments and improvements the team has made since their slow first half of the season.
The Silver Knights took game one of Wednesday's doubleheader 9-6, erasing a threat to their win streak and winning comfortably.
While Nashua led for most of the game, the Bees scored two runs in the bottom of the sixth to take a 6-5 lead. However, in the top of the seventh — the final inning of the doubleheader-shortened game — Logan Ott singled and Kevin Skagerlind doubled before Brandon Fish drove them both in to take the lead back.
Fish led the way offensively in game one, going three-for-four with two RBI. Jackson Linn also put up a good day, collecting three hits and driving in two runs.
The Silver Knights came out swinging in game two, scoring two runs in the top of the first. Backed up by solid pitching from Noah Wachter, Nashua held on to the lead and won 3-1.
Wachter was making his first start of the season after appearing 12 times out of the bullpen. He had been phenomenal in relief — a 2.55 ERA through 17.2 innings — and was equally as good in his start, going 5.2 innings and giving up just one run.
Wachter struck out eight and didn't walk a batter.
The Silver Knights didn't record an extra-base hit in game two, but were helped by four New Britain errors over the course of the game. John Mead put together the best offensive day, going three-for-three with a walk.
Nashua will return home on Thursday for a 6:00 PM matchup against the Westfield Starfires. They'll attempt to extend their win streak to nine straight games.