News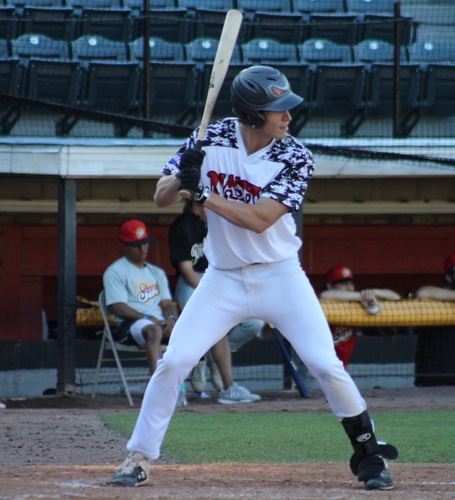 Saturday, July 31, 2021
By Mark Colley | Silver Knights media relations | @markcolley on Twitter
Straight off a nit-and-grit 2-1 win on Friday night, the Nashua Silver Knights won their third straight game with an overpowering 8-2 victory against the Norwich Sea Unicorns on Saturday.
Nashua got on the board early with a three-run second inning, their fourth straight game in which they've scored two or more runs in the first two innings. Their three-game winning streak is tied for the longest of the season.
Jackson Linn led the way offensively, hitting a single to drive in a run in the second inning and a solo home run in the fourth. He also doubled in the sixth, making it his second game this season with three or more hits.
Logan Ott, Brady Desjardins and Shane McNamara all also had good days, getting on base three times each. Both Desjardins and Ott also stole a base.
Starter Nick Guarino continued his fantastic stretch over the last five games, going 5.2 scoreless and giving up only three hits. He's now pitched 10.2 consecutive scoreless innings and has a 1.25 ERA over his last four starts.
Guarino's outing continued a trend of strong pitching from the Silver Knights rotation and bullpen. On Friday, starter Jack Beauchesne tossed five innings of one-run ball before the bullpen followed him up with four no-hit frames. On Thursday, relievers combined to pitch three perfect innings.
While Mike Untracht, the first reliever out of the bullpen on Saturday, struggled and was charged with two earned runs — the only runs the Sea Unicorns managed to score — Ryan Hohmann and George Welch combined for three no-hit innings to maintain Nashua's lead.
With everything clicking, the Silver Knights will return home on Sunday for a doubleheader against the Westfield Starfires. Game one will start at 3 PM as Nashua looks to extend their win streak to a season-high four games.