News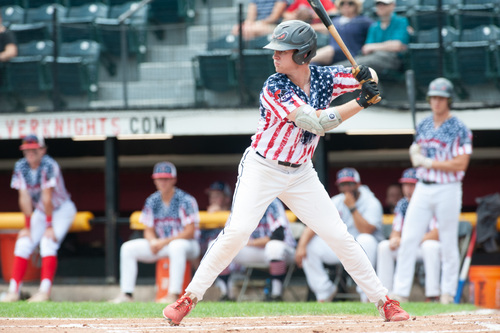 Wednesday, July 28, 2021
By Mark Colley | Silver Knights media relations | @markcolley on Twitter
Logan Ott gave it his all — on the mound and in the lineup — but the Nashua Silver Knights lost 6-5 to the Vermont Lake Monsters on Wednesday, dropping their second game in a row to the top team in the Futures League.
With the win and a doubleheader split for the Brockton Rox, who were previously tied for first place, Vermont now holds sole possession of the best record in the FCBL. It comes as the Lake Monsters have won 19 of their last 22 games, including a 14-game win streak — the longest in league history.
Ott drove in three with a bases-loaded double in the first inning, the kind of big hit the Silver Knights have been missing in recent days. But when he took the ball on the pitcher's mound for Nashua, he gave up one run in the first and two each in the second and third before being pulled.
Ott, normally an outfielder, is a two-way player at the University of Maryland and was making his first pitching appearance for the Silver Knights.
Nashua scored two more runs in the fifth, tying the game 5-5. But Vermont scored a run in the seventh inning off reliever Nick Remy to take the win.
While Remy was charged with the loss, the first reliever out of the bullpen — Ryan Hohmann — was phenomenal. He pitched three near-perfect innings, only walking one batter. It kept Nashua in the game against the league's toughest opponent.
Offensively, Sam McNulty had another banner night, going three-for-five from the leadoff spot. It's his third three-hit performance in just the last six games as his average is up more than 60 points over that span.
After losing 3-1 to Vermont on Tuesday, the Silver Knights will be happy to face less steep competition in the Worcester Bravehearts on Thursday. First pitch at Worcester's Hanover Insurance Park at Fitton Field is scheduled for 6:30 PM.