News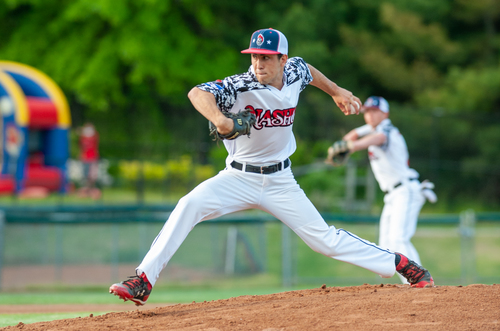 Saturday, July 24, 2021
By Mark Colley | Silver Knights media relations | [email protected]
Nick Guarino led the charge in the Nashua Silver Knights' 6-2 win on Saturday against the Worcester Bravehearts, pitching five shutout innings on the way to his third win of the season.
It was one of Guarino's best outings this year, as he gave up only one hit and struck out seven batters. He was backed up by reliever Noah Wachter, who pitched three innings of one-run ball and delivered Nashua its 16th win.
Offensively, it was a team effort to tally up eight hits, six walks and six runs, starting with a big three-run second inning and tacking on in the fourth, seventh and eighth.
In the second, Brandon Fish led off the inning with a walk before John Mead scored him on a triple. Two errors by Bravehearts shortstop Lewis Barnum on back-to-back plays then allowed Mead and catcher Greg Bozzo to score.
As much as allowing other teams to put up big innings early has crushed Nashua's momentum at many points this season, the big inning allowed the Silver Knights to enjoy the comfort of leading.
Sam McNulty hit two doubles and collected an RBI in the win, while Kevin Skagerlind went two-for-two and drove in one after coming in as a pinch-hitter for Mead.
After a disappointing doubleheader sweep at the hands of the Brockton Rox on Friday, the bounceback win against Worcester will help buoy the spirits of the Silver Knights. It'll also help the team make up ground in the standings, with Worcester currently sitting in a playoff spot, although it's a long way off for Nashua with just 22 games left in the season.
The Silver Knights continue their week-long road trip on Sunday with a 4:35 p.m. match-up against the third-place Pittsfield Suns.