News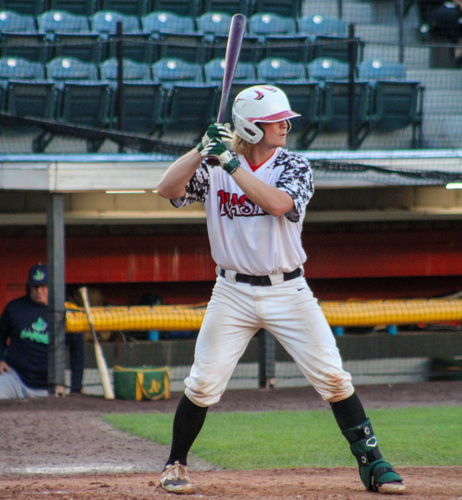 Thursday, July 22, 2021
By Mark Colley | Silver Knights media relations | [email protected]
A three-run homer from Nate Goranson in the eighth inning was all the offense the Nashua Silver Knights could muster in a 6-3 loss to the Worcester Bravehearts on Thursday.
The defeat was fueled by 11 runners left on base — including five potential runs in just the first two innings. According to manager Kyle Jackson, it set the tone for the game early.
"That can change the whole outcome of how they're gonna feel," Jackson said. "Now you have to somehow get [the momentum] back and it took until the eighth inning."
At that point, Goranson's home run was just a drop in the bucket of the six-run deficit Nashua had to overcome. Silver Knights starter Jack Beauchesne made only one big mistake, a three-run home run allowed in the third inning, but none of the runs were earned after an error by third baseman Patrick Casserly earlier in the inning.
Beauchesne gave up one more run — this time earned — in the fifth inning on a hit-by-pitch and a pair of singles. But the big blow came with George Welch on the mound in the seventh inning. Welch struggled to throw a strike and walked the first two batters before giving up a two-run double.
While a four-run deficit may have been within range of a comeback, the double put it out of reach at 6-0.
"You want your bullpen to put up zeros to keep it close," Jackson said. "If we don't give up that two spot [in the seventh], then we have three [in the eighth], it turns into a 4-3 game and that becomes a whole different situation."
Jackson said Welch, who has only recorded one out while giving up four runs combined in his last two outings, is struggling with confidence in his pitches.
"He's going out there and he looks kind of scared," Jackson said. "We need to keep reinforcing that you can do this, we trust in you, that's why you're in this situation, that's why you're pitching. Just go out there and trust your stuff."
Goranson's three-run bomb was the offensive highlight of the night, as was his final line out of the eight-hole. Goranson walked in first three plate appearances before punishing a hanging changeup in his last at-bat.
Shortstop Sam McNulty also put together a strong night, going three-for-five. His double in the ninth inning, aided by Worcester's right fielder losing his pop fly in the lights, was ultimately stranded at third.
While Welch struggled out of the bullpen, LT Pare continues to impress and turn his season around after his first two outings. He was perfect in two innings of work, his fourth-straight scoreless appearance.
Thursday's game was Nashua's last at home until July 30 as the team embarked on a seven-day road trip, the longest of the season.
"They enjoy playing on the road because they like being the enemy," Jackson said. "They have that feel like, we're gonna come in there, even though we're in last place. We're gonna come out swinging and knock them in the mouth."
The road trip will begin on Friday with a doubleheader against the Brockton Rox.