News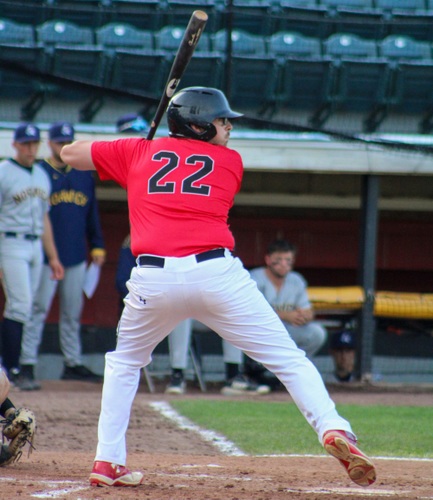 Wednesday, July 21, 2021
By Mark Colley | Silver Knights media relations | [email protected]
The Nashua Silver Knights are 10 games back in the standings. They have nearly twice as many losses as wins. They're last in the league in runs scored and runs allowed.
And yet, somehow, the first lines of an improbable comeback story are being written, however tentatively, in the book of this season. With an 11-4 win over the Norwich Sea Unicorns on Wednesday, the Silver Knights are now 6-4 in their last 10 games and 5.5 games back of a postseason berth.
On paper, it doesn't look like much. Nashua will still have to win six more games than the Worcester Bravehearts, the fourth place team in the Futures League, over the remaining 25 games this season. They'll also have to hope that none of the other teams they trail — the Sea Unicorns, New Britain Bees and Westfield Starfires — do better than them.
It's improbable, but not impossible.
It's made more likely by an offense that is finally clicking and has scored 11 runs in back-to-back games. Despite being down 1-0 before ever taking a swing of the bat on Wednesday, the Silver Knights exploded in the second inning for six runs to take a commanding 6-1 lead.
The hits kept coming. Nashua scored one in the third, one in the fifth and another three in the sixth inning. In the end, they had five walks and 13 hits — including five doubles — as a team.
The largest offensive explosion was from Nashua-native Nick Perkins, who walked with the bases loaded and hit two doubles to drive in four runs. His two-for-three night was exceeded by catcher Greg Bozzo, who went three-for-three with two doubles, a single and a walk.
"We have a great group of guys," Perkins said. "We've never got our heads down at all. The whole time, we're thinking we've still got this, we're still a great group of guys, which we're proving now."
While the offense has scored 11 runs in two straight games, the pitching also held opposing teams to just four runs on Tuesday and Wednesday.
Starter Jake Thibault went five innings in his first start since June 15 and gave up three runs, two of which were earned. While he allowed at least one baserunner in every inning, he did enough to get by without giving up any big hits.
Mike Untracht gave up one run out of the bullpen — just the second appearance he's made this year in which he's allowed an earned run — but Noah Wachter and Liam Eliot both pitched well in the final innings.
"Once the hitters and the pitchers all come together and they do it in the same game, things are going to happen," manager Kyle Jackson said of the win.
An influx of new or hot hitters has been the key to Nashua's recent success. Third baseman Connor Hujsak hadn't hit a home run before July 15; since then, he's hit four. Outfielder John Mead joined the team three games before the All-Star break, while Jackson Linn only played once before July 15. Both players have already had five-hit games.
Is it too little, too late for the Silver Knights? Probably. They've had trouble stringing together wins in the past and that pattern may repeat itself again over the next three weeks. But the combination of new players and hot streaks means this team is very different from what it was a month ago, or even two weeks ago.
"They know they can do it. They want to do it. I'm just here for the ride," Jackson said.
As simple as it sounds, the team is also having fun. They've adopted a new home run celebration. Jackson and starter Jack Beauchesne also competed on Wednesday to see who could collect more foul balls, to the point of full-out sprints out of the dugout.
And Jackson hasn't washed his road pants since Nashua started a three-game road winning streak on July 10.
"I can start my streak for home now," Jackson said.