News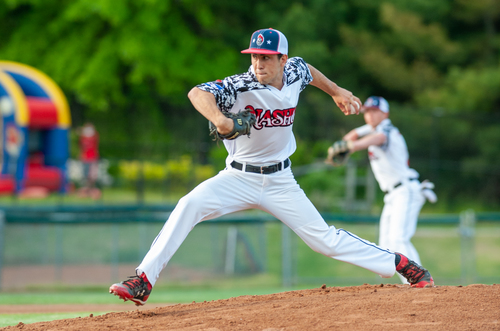 Sunday, July 18, 2021
By Mark Colley | Silver Knights media relations | @markcolley on Twitter
A ragtag comeback in game two fell short as the Nashua Silver Knights split their Sunday doubleheader against the Pittsfield Suns.
Down 4-1 with two innings left to play in the nightcap, the Silver Knights crawled back with a bases-loaded walk from Nick Perkins and a Kevin Skagerlind double-play turned two-run error.
But Nashua wasn't able to capitalize on the remaining runners on base and gave up a three-spot with messy defense in the seventh, the final inning. Nashua lost 7-5.
Nashua had previously been up 1-0, thanks to a home run from Connor Hujsak — his fourth in as many games. Despite the game two loss, the offense came out in game one, which the Silver Knights won 6-4. They had 11 hits, all of which were singles except for one double from Hujsak.
"It's a big step in the right direction," manager Kyle Jackson said. "They're not swinging for the fences. [On] Hujsak's home run, he's not swinging for the fences. In the last two innings [of game two], everyone's going the other way."
Game one was powered by Kevin Skagerlind, who went three-for-four and scored two runs, and Nick Guarino, who cruised through the first four innings before giving up a three-run homer in the fifth. Hujsak also contributed with two RBI, as well as Brady Desjardins, who had two hits and a sacrifice bunt.
The momentum Guarino gifted the team by mowing down batters early went a long way towards the Silver Knights' win. It's something that was missing in game two, when every run Nashua scored was instantly matched by Pittsfield.
"They're starting to understand that the job has to get done because those runs are huge," Jackson said. "It sets the tone."
While Timmy Kalantzakos is the pitcher of record in Nashua's game two loss, he pitched well in two of his three innings. He got hurt by a Sam McNulty error in the seventh that should've been a double-play.
With the split, the Silver Knights are now 13-27 on the season but 4-3 since July 10. The fight Nashua showed, even when down by three runs in game two, is a sign of the change this team has undergone since the start of the season.
Things are changing off the field, too. The Silver Knights are more of a unit now than they were a month ago. Case in point: They've recently adopted a new home run celebration, where the hitter dons a cowboy hat as they cross home plate.
The changes come slowly, but they're there. For Jackson, that's a positive sign.
"It's just a battle. They're getting a lot better at it," Jackson said. "It just shows that they're still wanting to play and still be here."
The Silver Knights will travel to Worcester to play the Bravehearts on Tuesday before returning to Holman Stadium on Wednesday.