News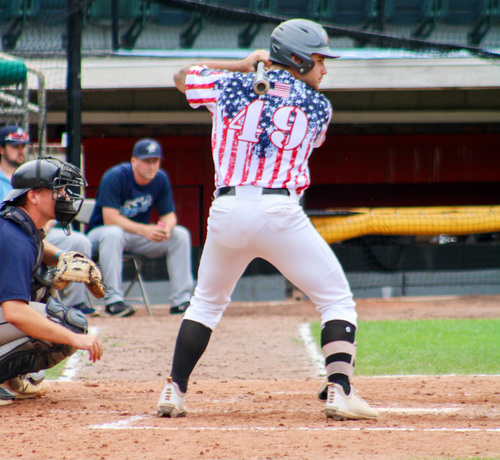 Saturday, July 17, 2021
By Mark Colley | Silver Knights media relations | @markcolley on Twitter
What started as a clean, well-fought battle turned into a mess for the Nashua Silver Knights in the fifth inning of Saturday's game against the Brockton Rox, with Nashua ultimately losing 12-4.
Nashua had played smoothly until that point, pulling within one run in the bottom of the fourth and keeping the Rox in check with solid defense. But it all disappeared in the fifth with two errors, four hits, a walk and a hit-by-pitch.
By the end of the frame, instead of being down 2-1, the Silver Knights trailed 7-1 and had little chance to make up the deficit. For manager Kyle Jackson, it was another frustration with a team that seems to have what it takes to win but is unable to do so consistently.
"It's like two different teams. It's like Dr. Jekyll and Mr. Hyde," Jackson said. "It's either everything goes or nothing goes … Nothing is matching up except for that little three-game winning streak we had."
On Saturday, the hitting was largely there. Despite only scoring four runs, the Silver Knights had 10 hits and five walks. Connor Hujsak hit his third home run in two games in the ninth inning, while John Mead put up his first big day of the season with three hits and two RBI.
Starter Jack Beauchesne also put together a serviceable outing, going four innings and giving up two runs on seven hits. He kept Nashua in the ballgame.
But it was the bullpen that allowed hitters to get ahead in counts and take advantage of situations with runners on. George Welch gave up five runs — only two earned — out of the bullpen, while Ryan Murphy walked the first three batters of the sixth inning. They all came around to score.
"It felt like the beginning of the year … We got a lot of hits, just not enough runs," Jackson said. "We lost in the bullpen. It turned into a sandlot."
After rattling off a three-game win streak sandwiched by the All-Star break, Saturday's loss was Nashua's second in a row. If the Silver Knights hope to make any sort of heroic last-minute comeback in the standings — which Jackson said the team still believes it can do — they need to go on a run soon.
Nashua wraps up its four-game homestand with a doubleheader on Sunday against the Pittsfield Suns, weather permitting. Game one is scheduled to start at 3 p.m. and game two is slated for 6 p.m.