News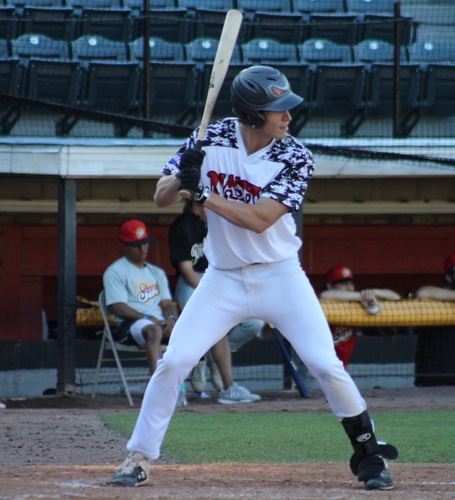 Thursday, July 15, 2021
By Mark Colley | Silver Knights media relations | @markcolley on Twitter
When the Nashua Silver Knights won the last game before the All-Star break with a dramatic come-from-behind home run derby victory, manager Kyle Jackson expressed frustration. He said whenever the team gains momentum, it seems to be squashed by a long stretch of off-days.
The Silver Knights won two games in a row on June 5 and 6, then ran into two scheduled off-days. The Silver Knights won three of four between June 25 and 29, then had four straight rainouts and lost the next five games.
So when Nashua won the last two games before the three-day All-Star break, no one could blame Jackson for being upset at the fickle realities of the Silver Knights' schedule. It always hurt them.
But on Thursday, the first day back from the All-Star break in New Britain, CT, the Silver Knights didn't miss a beat. They came out swinging and mercied the Brockton Rox in seven innings by a score of 16-3, defeating the best team in the league with the best offensive performance of the season.
Nashua trailed 2-0 at the end of the first after starter Nick Remy walked four batters and struggled with inconsistent defense. The deficit didn't matter; the Silver Knights scored three in the second inning, one each in the third, fourth, fifth and sixth, and nine in the seventh.
The outburst — which is the most runs Nashua has scored this season by a four-run margin — was led by Jackson Linn. Linn, who was
drafted
by the Houston Astros in the 20th round earlier this week but has decided not to sign, collected five hits and four RBI with three extra-base hits.
It was only Linn's second game as a Silver Knight. He wasted no time in getting on the board.
Also contributing was Dylan O'Sullivan, who went 3-4 with a double and drove in two. Patrick Casserly had a pinch-hit, three-run home run and shortstop Sam McNulty had a home run and single.
Buried in the outburst was Brandon Fish, who collected only a single and walk out of the lead-off spot but extended his hit streak to 12 consecutive games. He's now reached base in 16 consecutive games and has an OBP of .485, third-best in the FCBL among hitters with 40 or more plate appearances.
In the end, only two Nashua starters failed to collect a hit.
The Silver Knights have now won three games in a row — the longest streak of the season and already 25 percent of their wins this year in only eight percent of their games. It's the hottest they've been all season and it's not close.
The Silver Knights will bring the heat back to Nashua on Friday, when they face off against the Worcester Bravehearts at Holman Stadium at 6:00 p.m.