News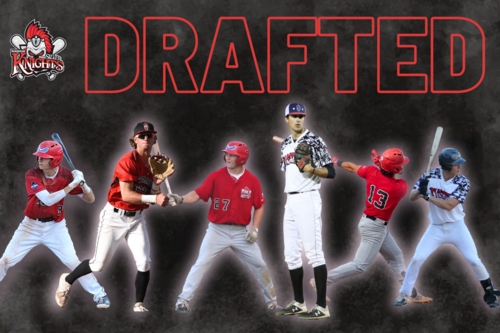 Tuesday, July 13, 2021
By Mark Colley | Silver Knights media relations | @markcolley on Twitter
Six current and former Nashua Silver Knights were selected in the 2021 MLB draft this week, including three members of the 2020 team.
Cody Morissette, who hit .310 in 2018 as an incoming freshman on Nashua's roster, was selected 52nd overall by the Miami Marlins in the second round. The shortstop hit .321 as a junior at Boston College this past year and posted a career-high six home runs.
Morissette is joined in this year's draft class by current Silver Knight outfielder Jackson Linn, 2020 alumni Jard Dupere, Brandon Dufault and Dominic Keegan, and 2019 alumnus Benjamin Cowles.
"It shows how much talent has come through Nashua in the past decade and what incredible things these players have done beyond playing for the Silver Knights," Nashua general manager Cam Cook said. "We're looking forward to seeing their success at the next level like so many Knights before them"
Linn, an outfielder, was taken in the 20th round (598th overall) by the Houston Astros. He played in one game for the Silver Knights this season and is an incoming freshman at Tulane University.
Linn won't sign with the Astros and will return to the Silver Knights roster.
Cowles was taken in the 10th round (303rd overall) by the New York Yankees. In 2019, the University of Maryland shortstop had 20 hits and 15 RBI in 29 games with Nashua.
Dupere was selected in the 13th round (386th overall) by the San Francisco Giants out of Northeastern University. Dupere played for the Silver Knights in 2019 and 2020, being named an All-Star in his first year with the club and winning a championship in his second.
Dufault, taken in the 16th round (471st overall) by the Los Angeles Angels, played for Nashua in 2018, when he was named the Futures League Pitcher of the Year, and 2020.
Keegan, another member of the 2020 championship team, was selected in the 19th round (573rd overall) by the Yankees. Keegan, who is coming off his junior year at Vanderbilt University, hit .317 in 32 games with Nashua last year.
Keegan
told
the Eagle-Tribune that he won't be signing with the Yankees and will instead return to Vanderbilt.
The Futures League is celebrating the 2021 All-Star Game in New Britain, CT, on July 13. Eight Silver Knights are featured on the East Division team.
Nashua will return to action at Holman Stadium on Friday, when they face off against the Worcester Bravehearts at 6:00 p.m.