News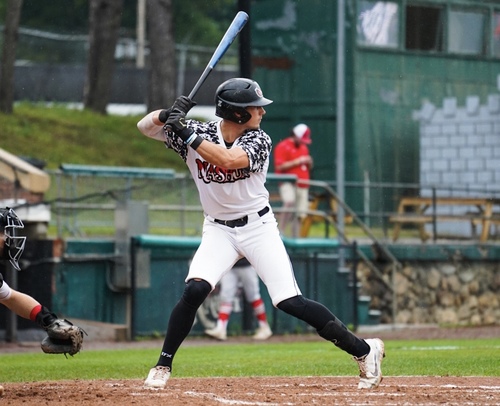 Sunday, July 11, 2021
By Mark Colley | Silver Knights media relations | @markcolley on Twitter
Connor Hujsak was down to his final out in round one of the tie-breaking home run derby — then he hit four consecutive home runs and sent the derby to round two. In the second round he hit two consecutive home runs with one out left.
When the second home run curved around the scoreboard in left field, the Nashua Silver Knights sighed a breath of relief. They would be entering the All-Star break with a win.
Hujsak's dramatic 8-7 derby victory capped off Nashua's Sunday match-up against the Westfield Starfires, who made a five-run comeback and tied the game 5-5 in a near-disastrous eighth inning for the Silver Knights.
The sloppy play that inning — which included a merry-go-round of wild pitches and dropped third strikes, allowing Westfield to run itself back into the ballgame — will be overshadowed by Hujsak's heroics. But the inning almost ended Nashua's first half in catastrophe.
It would've been an appropriate ending for a team that holds an 11-24 record and sits 10.5 games back of first place in the FCBL. Instead, the Silver Knights are heading towards the second half with back-to-back wins, only the third time they've won two in a row this season.
"They want to win. There's a different mentality because they know they're better than half the teams," manager Kyle Jackson said. "They've beaten every team at least once."
A large part of the win was Nick Guarino. After imploding on June 23 against the Vermont Lake Monsters and giving up seven runs in just two innings, Guarino has bounced back. In his last outing, he went five innings and gave up two runs; Sunday, he pitched six shutout.
Guarino said he was dealing with an arm injury earlier this year and has worked with pitching coach Ariel Ramos to make things right. On Sunday, he finally got his slider working.
It left Nashua in the position to win, with a 5-0 lead and six outs to go. But after Nashua's defensive breakdown in the eighth and a scoreless 10th from both teams, the home run derby was inevitable.
Hujsak said he was hunting low-and-in pitches and asked Ramos — who threw to Hujsak during the derby — to move closer to the plate.
"It's so much easier to just track a ball that's closer than further away," Hujsak said. "I just dialed it in [with one out left]."
Nashua will take three days off, with the league's home run derby scheduled for Monday and the All-Star game for Tuesday. When they return to embark on the second half on Thursday, Jackson said the team will be different than they were in the first half, thanks to what he told them.
"I said, you guys are the quietest team [in the league]," Jackson explained. "You guys all get along and you're loud on the bus … but when the game happens, no one's supporting [each other]."
The change was visible in Nashua's 10-3 win against the Brockton Rox on Saturday, and certainly during the final innings of Sunday's game. When Nashua kicks off the second half on Thursday, it'll put the change to the test.