News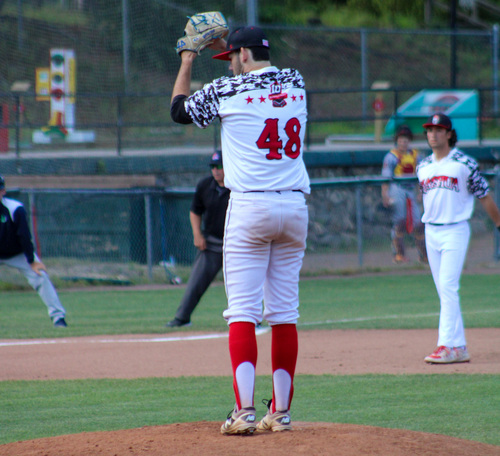 Thursday, July 8, 2021
By Mark Colley | Silver Knights media relations | @markcolley on Twitter
The Nashua Silver Knights lost their fifth in a row on Thursday, falling 6-1 to the Brockton Rox in a rain-shortened seven-inning game.
Nashua, still searching for its 10th win of the season as the All-Star break approaches, jumped to a 1-0 lead in the bottom of the fifth but collapsed in the top of the sixth and gave up a five-spot to Brockton.
The Rox, who lead the Futures League with 21 wins, are second in the league with a 3.86 ERA and third in runs scored at 179. The combination showed on Thursday, the team's first game against the Silver Knights this season.
"I'm so proud of these guys because regardless of our record, they don't show it," said pitching coach Ariel Ramos, who managed on Thursday while manager Kyle Jackson was away to attend a wedding. "We always look forward to the next day."
The game was called after the seventh inning by the umpires, who cited safety concerns.
While the game could've been called at the end of the fifth, when Nashua led 1-0, a consolation prize for the extension was Brandon Fish's sixth-inning single. It extended Fish's hitting streak to nine consecutive games.
Fish, who is hitting .359 through 16 games, has only failed to reach base once this season. He is sixth in the league in on-base percentage and was named as an All-Star on Wednesday.
Starter Griffin Young also had a solid outing, going 5.1 innings and allowing no earned runs, although three runs did score thanks to Nashua's four errors.
For Nashua, which is 9-24 on the season and as far from seventh place in the standings as seventh place is to first, it seems like everything that could've gone wrong has gone wrong, Ramos said.
"It seems like that's been the whole year for us," Ramos said. "We just got to keep battling."
Still, Ramos is optimistic.
"It's a long season. As soon as we catch one, we'll catch 10," Ramos said.
Nashua's three-game homestand ends on Friday with a 6:00 p.m. game against the Worcester Bravehearts. Jack Beauchesne will start for the Silver Knights.