News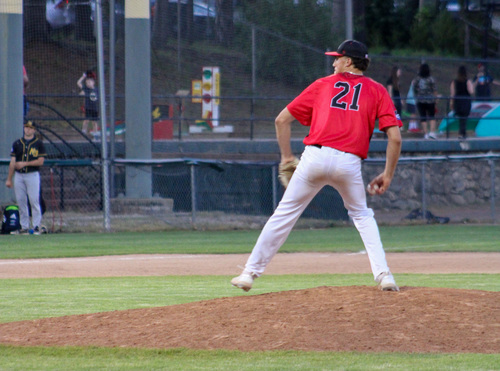 Wednesday, July 7, 2021
By Mark Colley | Silver Knights media relations | @markcolley on Twitter
The Nashua Silver Knights' latest slide continued on Wednesday night against the Vermont Lake Monsters in an 8-3 loss, their fourth straight as the team still hunts for their 10th win of the season.
The Silver Knights now sit last place in the Futures League at 11.5 games back, more than double the distance between the second-last team and first.
Manager Kyle Jackson said Nashua hasn't been able to collect big hits when they need them and that the approach of the team — especially with runners on base — needs to change.
"There's no accountability," Jackson said. "I'm repeating myself over and over and over to the team. I had a meeting today about it. It's okay to not stat chase and just make an out for the team."
While the Silver Knights had seven hits and six walks in the loss, they only managed to score three runs. That included help from the Lake Monsters, who committed two errors.
The most egregious example of runners stranded came in the bottom of the sixth inning, when Vermont reliever Joe Henry threw five balls on his first five pitches. He walked the first two batters he faced before hitting Nashua shortstop Connor Hujsak in the helmet.
But with the bases loaded and none out, Vermont brought in a new reliever. Kyle Hannon and Sam McNulty struck out and Lucas Carmichael lined out to shortstop. A golden opportunity to claw their way back into the game turned into another blown chance.
While a comeback at that point would've been a improbable — Nashua was down 7-1 after Vermont scored two in the first, three in the fourth and two in the sixth — it represents the shortcomings of the Silver Knights' offense thus far this season.
Nashua trails the league with a .206 team batting average and .327 on-base percentage, while also scoring the fewest runs.
One bright spot of Nashua's 3-7 stretch is Brandon Fish, who extended his hitting streak to eight games with a single on Wednesday. He also walked twice, elevating his season OBP to .479, the highest of any Silver Knight.
Fish said the key to his recent success is staying true to his approach.
"[I'm] staying to my approach and making sure I get my pitch," Fish said. "When I get it, [I] hit it for a base hit. [I'm] not trying to get too big."
Fish was one of
eight Silver Knights
named as an East Division All-Star on Wednesday, along with Greg Bozzo, Connor Hujsak, Logan Ott, Gabe Driscoll, Aidan Crowley, Ryan Hohmann and Ryan Murphy.
Fish said he was "really excited" when he found out he was selected.
"It's going to be a cool experience, my first experience with a college All-Star game," Fish said. "With all the great guys in the league, it can't get any better than that."
Crowley, who was also named to the FCBL's Team of the Month for May/June, started on Wednesday but struggled in what became his worst outing of the season. After not giving up more than three runs in each of his first four starts, Crowley gave up five in 3.2 innings.
The Silver Knights will return to game action on Thursday, when they host the Brockton Rox for the first-place team's first game of the season at Holman Stadium. First pitch is scheduled for 6:00 p.m.