News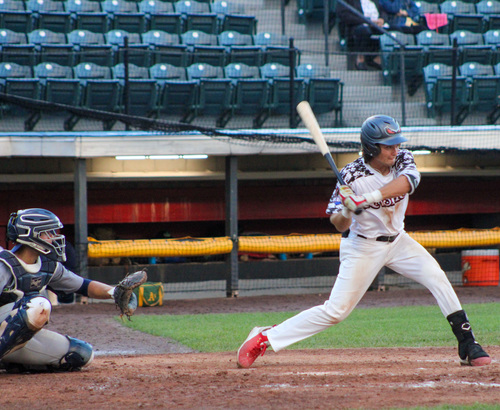 Tuesday, July 6, 2021
By Mark Colley | Silver Knights media relations | @markcolley on Twitter
Brandon Fish had another good day at the plate in the Nashua Silver Knights' 7-2 loss to the Vermont Lake Monsters on Tuesday, collecting two hits and increasing his batting average to .353.
It was Fish's second game of the season in the leadoff spot as he solidified his role as one of the best hitters on the team. Fish leads the active roster in batting average by nearly .100 points and OPS by more than .100 points.
He also has a seven-game hitting streak dating back to June 25.
Starter Nick Remy gave up two runs in the first inning and another in the fourth to give Vermont a 3-0 lead. Nashua scored two in the top of the eighth on a bases-loaded single from Matt Orlando, but the Lake Monsters pulled away again with four runs in the bottom of the eighth.
It was Timmy Kalantzakos who gave up the runs, but none were earned. Lake Monster Ethan Firestone reached on an error by Nashua shortstop Sam McNulty before Anthony Stephan walked. An error by Kalantzakos allowed one run to score before an error by catcher Greg Bozzo scored two more.
The three errors in the inning made it three straight games for the Silver Knights with two or more errors, dating back to their four-game layoff due to rain over the weekend.
With the loss, Nashua is now 9-22 on the season and 3-7 in their last 10. At last place in the standings, they trail the next closest team — the New Britain Bees — by five games, nearly the difference between the Bees and first place.
The Silver Knights will look to turn things around Wednesday in their third straight game against the Lake Monsters, scheduled to start at 6:00 p.m. The game will mark a return home for the Silver Knights after seven days on the road.