News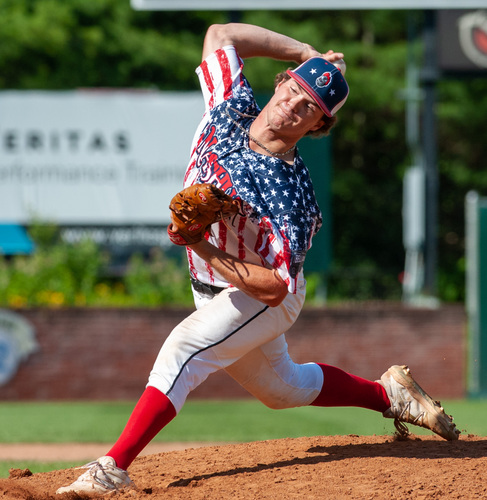 Monday, July 5, 2021
By Mark Colley | Silver Knights media relations | @markcolley on Twitter
Tied 3-3, a sloppy eighth inning doomed the Nashua Silver Knights in their 6-3 loss to the Vermont Lake Monsters on Monday night, dropping their second in a row as they search for their 10th win of the season.
The story was the same as a deflating 8-1 loss to the Pittsfield Suns on Sunday: an offense that got the hits but failed to put it all together. Combining the two games, the Silver Knights had 16 hits and five walks but only scored four runs.
In the fourth inning of Monday's game, Nashua had runners on second and third with one out and only scored once. In the sixth, they had runners on first and third but only got one run in. In the seventh, the Silver Knights left the bases loaded.
That meant two-hit days for Lucas Carmichael and Sam McNulty, along with a single and a walk from Nate Perkins, went to waste.
Starter Nick Guarino gave up eight runs — seven earned — in his last start, also against the Lake Monsters, but bounced back and pitched five strong innings. He gave up four hits and one walk but only allowed two earned runs.
His performance was followed by reliever Ryan Hohmann, who continues to impress with a 0.81 ERA out of the bullpen. He tossed two near-perfect innings out of the bullpen, only allowing one baserunner on a hit by pitch.
Hohmann now has six scoreless outings out of the bullpen and back-to-back two inning appearances.
It was Ryan Murphy, brought in after Hohmann, who gave up three runs while only recording one out to lose the game for Nashua.
The Silver Knights will attempt to net their 10th win of the season Tuesday night as they take on the Sea Monsters again at 7:05 p.m. Nashua returns to Holman Stadium on Wednesday for a 6 p.m. game.