News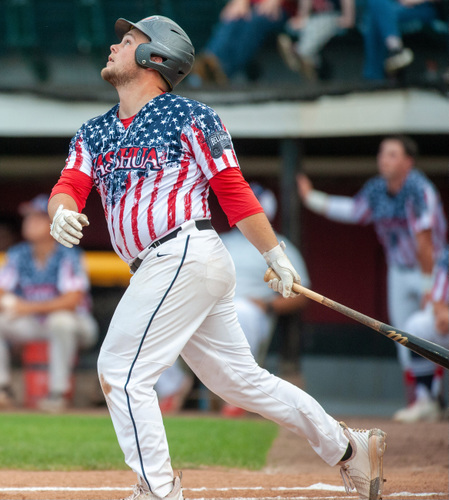 Saturday, June 26, 2021
By Mark Colley | Silver Knights media relations | @markcolley on Twitter
WESTFIELD, MA - The Nashua Silver Knights' resurgent offense continued its new-found success on Saturday in a 7-2 victory over the Westfield Starfires, delivering Nashua back-to-back wins for just the second time this season.
Silver Knights first baseman Dylan O'Sullivan led the way with a two-run home run and RBI double. Logan Ott, Connor Hujsak, Matt Orlando and Patrick Casserly all contributed with two-hit days of their own, while Orlando also walked twice.
Nashua's offense, which has now scored seven runs in back-to-back games and at least four runs in four consecutive games, appears to have fully recovered — at least for now — from its early-season woes.
From June 11 to June 23, a span of 10 games, the Silver Knights never scored more than four runs in a game. They sit last in the league in runs scored, total bases, batting average, on-base percentage and OPS.
But in the four games since losing both ends of a doubleheader on June 23, it looks like manager Kyle Jackson and coach Ariel Ramos have managed to turn things around.
With starter Aidan Crowley on the mound for the Silver Knights on Saturday, they were quickly in the hole 1-0 after the first inning. But in the top of the second, O'Sullivan hit his two-run homer to take the lead, which Nashua never relinquished.
The Silver Knights scored one more to make it 3-1 when Kyle Hannon walked with the bases loaded in the top of the third. In the fifth, Brandon Fish hit a sacrifice fly to score one run and O'Sullivan doubled in Hannon to make it 5-1.
For good measure, Nashua tacked on two more in the ninth inning on a Casserly bases-loaded single.
The one run Crowley gave up in the first was the only damage Westfield managed against him in 5.2 innings. Crowley lowered his ERA to 3.13, cementing his place as the number-two starter in the rotation behind Wyatt Scotti.
Out of the bullpen, Mike Untracht gave up one unearned run, maintaining his perfect 0.00 ERA through six appearances. Ryan Hohmann closed things out with a six-out save, giving up one hit and two walks.
Nashua will look to continue their offensive revival Sunday against the Worcester Bravehearts, their final game of a five-game road trip. The Silver Knights return home to Holman Stadium Tuesday with a 6 PM game against the Pittsfield Suns.