News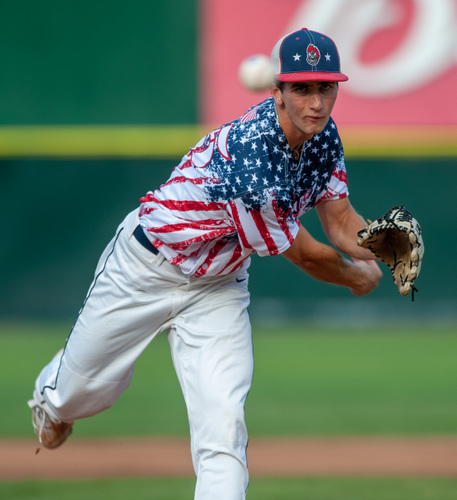 By Mark Colley
The Nashua Silver Knights split their doubleheader against the Norwich Sea Unicorns on Friday, picking up a much-needed 7-2 win in game two.
The first game of the doubleheader was a continuation of Nashua's June 19 game, which was suspended after the third inning due to rain. Nashua lost game one 13-4, with Timmy Kalantzakos giving up five runs without recording an out in the first inning of play on Friday.
Things went far better in game two, with Nashua jumping to an early 2-0 lead by the end of the second inning. In the first inning, a Matt Orlando double scored Logan Ott, and in the second, an Ott double scored Brandon Fish.
Meanwhile, Silver Knights starter Wyatt Scotti — the team's best starter through three outings this season — kept the Sea Unicorns off the board until the sixth inning, when he gave up two runs.
Despite the game being tied 2-2 heading into the seventh inning — the final inning of play in a shortened game due to the doubleheader — Nashua scored five and reliever Ryan Murphy pitched 1.1 scoreless innings to close out the 7-2 win.
Scotti, going 5.2 innings and giving up two runs (one earned), impressed yet again in what may be his final start as a Silver Knight. He may be moving to the Cape Cod League before his next scheduled start with Nashua next Friday.
Still, in his three starts with the Silver Knights, Scotti has made a big impact. He has a 1.55 ERA, the lowest among Nashua starters, and has held opponents to a .176 on-base percentage.
Offensively, the 7-2 win represented another big night for the Nashua lineup. Despite only scoring eight runs total over a six-game span from June 16 to June 23, the Silver Knights have now scored 18 runs in their last 22 innings.
Fish led the way on Friday, collecting three singles in four at-bats. Ott chipped in with a double and walk, as did Orlando. Connor Hujsak had two singles.
The Silver Knights will continue their road trip Saturday against the Westfield Starfires at 6:30 PM.