News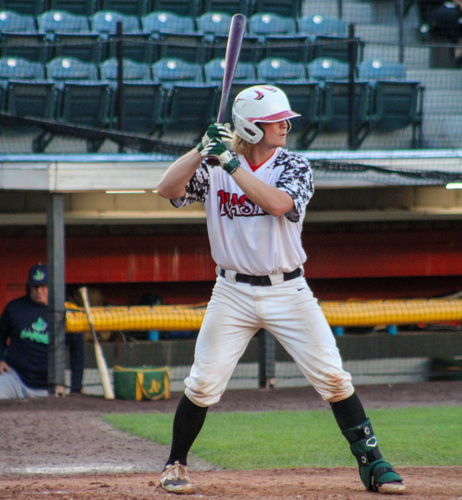 By Mark Colley
The Nashua Silver Knights wasted a big day from the lineup in a 9-8 loss to the Worcester Bravehearts on Thursday, squandering one of the best offensive games in weeks.
Powered by catcher Nate Goranson's four RBI and three hits — including two doubles and a home run — the Silver Knights scored as many runs as they had in the previous eight games combined. Their nine hits were the most in a game since Nashua's 12-3 win on June 5, a span of 15 games.
Goranson's eight total bases represents the best single-player offensive performance of the season. Prior to Thursday, the only hits Goranson had all season were two singles.
His home run was only Nashua's second long ball since June 4.
But starter Jack Beauchesne and relievers Jake Thibault and Shea Ryan combined to give up nine runs in the fifth and sixth inning. After the sixth, the Silver Knights managed only one more hit.
Beauchesne's final line of 4.1 innings and two runs was an improvement from his last outing, when he gave up four runs in three innings of work. Thibault, making his first appearance out of the bullpen, gave up four runs, while Ryan gave up three (two earned).
Ryan had previously been one of the Silver Knights' best relievers. He had a 2.46 ERA entering the game and opponents were hitting .233 against him. In three previous appearances against Worcester, Ryan had given up only one run and struck out nine in 4.2 innings.
With Nashua down 9-8 in the final innings, Gabe Driscoll and Ryan Murphy both pitched scoreless innings to give the offense a chance to win. Driscoll's ERA this season is now 1.86.
Other strong performances included Conner Hujsak, who singled and doubled, and Nick Perkins, who doubled and scored in his first game in the three spot in the lineup.
For a struggling Nashua team, the way they lost Thursday was new but the feeling was familiar. The Silver Knights have now lost four in a row and eleven of the last 12, falling to 6-17 on the season.
They'll attempt to maintain the offensive momentum in Friday's doubleheader matchup against the Norwich Sea Unicorns. Nashua's best starter Wyatt Scotti will be on the mound in game two for what may be his final start as a Silver Knight before moving to the Cape Cod League.