News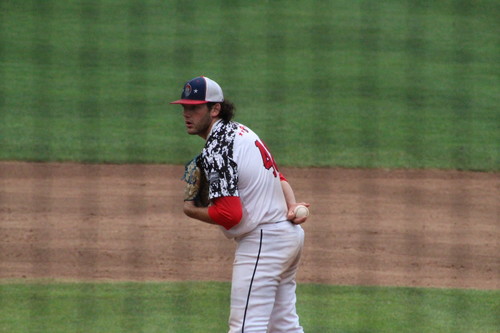 By Mark Colley
The Nashua Silver Knights dropped both ends of an energy-sapping doubleheader against the Vermont Lake Monsters on Wednesday, losing game one 6-2 and game two 10-0.
Nashua's offense continued its season-long struggle of opportune hitting, leaving 14 batters on in 12 innings of play — seven innings in game one and a mercy-ruled five innings in game two.
That included the fourth inning of game two, when the Silver Knights walked the bases loaded but also struck out for all three outs in the inning.
Nashua has now scored only two runs over its last 21 innings and is last in the league in team batting average.
"We have good hitters. Their [batting practice] is great. They gotta translate it into the game," manager Kyle Jackson said. "The confidence they have in BP has to go into the game. I feel like once BP [is over] and they say play ball, they become a different team."
Part of the problem for Nashua has been errors. They had seven total in Wednesday's games, allowing four unearned runs over the course of the day.
"We had more errors than hits [in game two]," Jackson said. "That's not going to win you any ballgames … We're fighting an uphill battle."
Game one starter Griffin Young had perhaps the best performance of the day, pitching 4.1 innings and giving up three runs — two earned — on two walks and six strikeouts. While Nick Guarino gave up seven earned runs as the game two starter, George Welch pitched two hitless innings in relief.
Nashua is now 6-16 on the season. Welch said the team's struggles this season are demoralizing but he hopes they can improve.
"It's tough being positive on this but we've got to turn it around soon and hopefully it's now," Welch said. "I think we're starting to bond more as a team"
Another aspect lacking Wednesday was the energy. The first game was delayed an hour to wait for umpires, who showed up late, and Jackson said that sapped the energy from the Silver Knights.
"It's tough when … it's your own home ballpark and the other team has more energy than you," Jackson said. "You've got the kids ready for 3:00 and then it's like, that energy goes away for an hour … An hour can be a difference, but once you step in the lines, it's game time."
The Silver Knights will try to find that energy Thursday against the Worcester Bravehearts with Jack Beauchesne on the mound. Beauchesne was strong in his first start of the season, but gave up four runs in three innings his last time out. First pitch in Worcester is scheduled for 6:30 PM.