News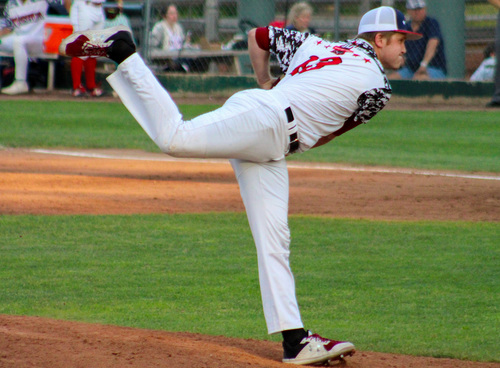 By Mark Colley
A lack of adjustments and opportune hits with runners in scoring position doomed the Nashua Silver Knights on Sunday afternoon, as they lost 3-0 to the Norwich Sea Unicorns at Holman Stadium.
Despite having a runner on second base in every inning but the ninth, when they had a runner on first, Nashua failed to string together clutch hits in a continuation of season-long offensive struggles.
Manager Kyle Jackson said complaints from Nashua players about the umpires aren't the root cause for the team's issues.
"I'm frustrated because I hear a lot of complaining about the umpires and the inconsistency of the strike zone, but I know it goes both ways," Jackson said. "I'm just tired of hearing the excuses of the umpires. It comes back to simple baseball."
The Silver Knights also ran into outs on the basepaths on multiple occasions. In the second inning, Kyle Hannon was thrown out at third trying to advance on a ground ball hit to the left side. In the fifth, Lucas Carmichael got hung up between second and third on a line drive to the shortstop, creating an easy double play for Norwich.
Later, in the sixth inning, Kevin Skagerlind was caught stealing at third. Instead of having a runner on second with one out, Nashua had none on with two outs.
"No one's willing to give up their at-bat and change their approach to go the other way," Jackson said, noting that Nate Goranson's fifth-inning sacrifice bunt was exactly what he wants to see the team do more often. "There's too many I's right now."
Silver Knights starter Aidan Crowley had a strong start, going 5.2 innings and giving up three runs. Compared to his last outing, Crowley cut down significantly on walks and increased strikeouts. Instead of five walks and four strikeouts, Crowley put up seven strikeouts and didn't walk a batter.
Going up against Norwich, which has the second-highest team batting average in the Futures League, Crowley said his focus was improving his command from last time out.
"[I was] just focusing on throwing strikes," Crowley said. "My big goal today was just to not walk anyone and make them hit and that was what I did."
Nashua's bullpen had a strong outing too, only allowing three baserunners in 3.1 innings of work. Ryan Hohmann, Shea Ryan and Gabe Driscoll combined to end the game with eight consecutive batters sent down.
Carmichael and Logan Ott both had strong offensive performances, with Carmichael singling twice and walking in the seventh inning. Ott doubled and walked twice.
The Silver Knights' box score tells the story from Sunday: Both Nashua and Norwich had seven hits each, but only the Sea Unicorns scored.
On Tuesday, Nashua will attempt to turn things around after an off-day with a 6 PM game against the Vermont Lake Monsters. Returning Silver Knight Griffin Young will make his first start of the season.