News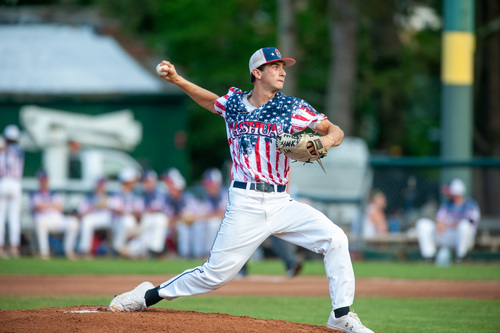 By Mark Colley
The Nashua Silver Knights were in a rut. They had lost five straight entering Friday night's game against the Vermont Lake Monsters, looking for any escape from a season-long slide into last place.
All it took to turn it around was standing a little bit closer to the plate.
The Silver Knights walked off Vermont 3-2 in the 10th inning on Friday, with catcher Nate Goranson's bases-loaded walk driving in the winning run. His approach coming up with two outs in a potential do-or-die moment? Crowd the plate. Make Vermont pitcher Isaiah Rhodes throw strikes.
"I was taking until I got two strikes," Goranson said. "I was gonna make him find the strike zone again."
The win — carried by Wyatt Scotti's phenomenal start and Nick Remy's lights-out relief appearance — felt like an emergence from perhaps the roughest stretch of the season.
Just one day before, on Thursday, the Silver Knights
lost
their fifth straight 8-2 in a disastrous game against the Pittsfield Sun. Nashua committed five errors and, at one point, had more errors than hits. Both runs they scored came without balls in play — a balk and a passed ball.
While the bats still weren't in action Friday, the game was a must-win game from the seventh inning forward. After Nashua scored one run to tie it 2-2 in that frame, manager Kyle Jackson was ejected in the top of the eighth arguing a stolen base call, igniting the team.
Then, when Nashua's Kyle Hannon struck out in the bottom of the ninth to strand runners on first and second, the benches cleared and tempers flared between the two teams.
"That sparked us up even more," Goranson said. "We were fired up and then when we saw Kyle scuffing it up with the guys, we just wanted to go to battle with our teammate."
Goranson said the team was feeling "down in the dumps" before Friday, but the win may have turned things around.
"[This game was a] very big momentum shift for us," Goranson said. "We needed something to kick us right in the butt. This game was electric. This is exactly what we needed."
Nashua wouldn't have been in the position to win without Scotti, who pitched seven innings and gave up two earned runs — both in the fourth inning. He struck out five and didn't walk a batter.
For Jackson, who said after Thursday's loss that a dominant outing from a starter would turn things around, Scotti's start was exactly what the team needed.
"That's what the team needed, was someone to go out there and put up zeros, straight from the get-go," Jackson said.
Remy, who pitched three hitless innings in relief with six strikeouts, also flipped the script of a team which had previously struggled to keep opposing teams close in the later innings.
"He was fired up when he pitched today, like he had a chip on his shoulder," said assistant coach Ariel Ramos, who managed the last three innings of the game after Jackson's ejection.
Heading into a home-and-home split against the Norwich Sea Unicorns on Saturday and Sunday, there are still reasons to worry about the Silver Knights. Despite the feel-good win, they still had two errors and left 12 baserunners on. They haven't scored more than four runs in a game in a week.
But if momentum means anything, it's now on Nashua's side.
"It could be a good catalyst for the team," Jackson said. "Maybe it brings them together."