News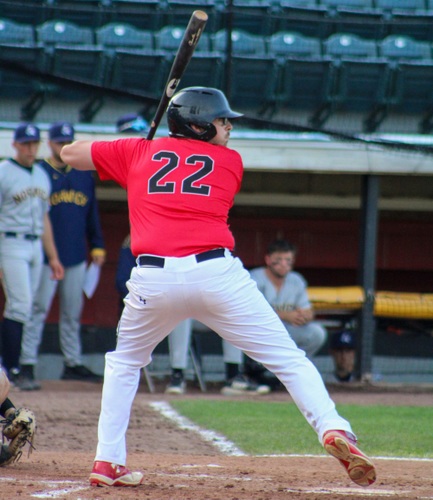 By Mark Colley
Nick Perkins had a double and a single and Kevin Skagerlind had a walk, single and 11-pitch at-bat. But for the Nashua Silver Knights, who lost 8-2 to the Pittsfield Suns on Thursday night, little went right.
Such is the story of the Nashua Silver Knights' 2021 season. Eighteen games and a lifetime of anguish in, frustrations abound for the defending 2020 champions. The hitting struggles continued, the defensive woes were magnified and the pitching problems erupted.
That makes it five straight losses for the Silver Knights, who haven't scored more than four runs in a game since June 11. They made five errors, gifting Pittsfield an early 4-0 lead. And the pitching — especially the bullpen — put a comeback out of reach for an offense that struck out 12 times and walked only four times.
At one point, Nashua had more errors than hits.
"That's not going to win any ballgames. We're already struggling enough," manager Kyle Jackson said. "You can see in the kids faces of trying to press or do too much or [they] don't want to fail, or try to make something happen that shouldn't be happening."
Jackson said he told the players yesterday to look themselves in the mirror and find out what they can do to help the team.
"They understand that something's gotta change," Jackson said.
The Silver Knights scraped by with their two runs, the first coming on a balk in the third and the second on a passed ball in the eighth. In the third inning, Nashua had runners on second and third with no outs but wasn't able to score a run with the bats.
While the Silver Knights were hitting against Suns starter Tim Cianciolo, who entered Thursday's game with 13 consecutive scoreless innings and an ERA of 2.40, Jackson said it wasn't good pitching that killed Nashua's bats; it was taking big swings at high fastballs and offspeed pitches in the dirt.
"That's the problem we have — there's no contact," Jackson said. "As a coach, that's frustrating."
One of the lone offensive bright spots was Perkins, who had a swinging bunt single in the fifth and a double in the third. It was the only extra-base hit of the day for the Silver Knights.
Nashua's Timmy Kalantzakos struggled through his third start of the season, making it deeper in the game than he had before but giving up four runs — two earned — and eight hits.
What gets Nashua out of this funk?
"It's only gonna take one win," Jackson said. "It's gonna take one starter to just go out there and dominate."
Nashua will attempt to turn things around on Friday against the Vermont Lake Monsters with first pitch at Holman Stadium scheduled for 6 PM.