News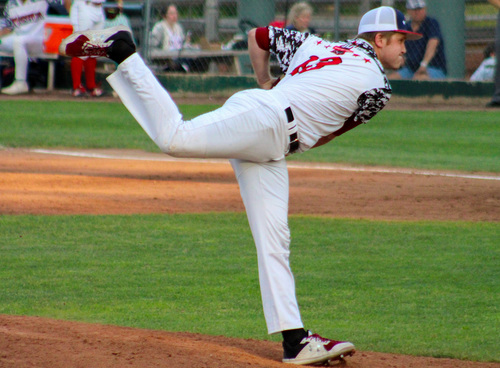 By Mark Colley
The Nashua Silver Knights lost their Sunday afternoon game against the New Britain Bees 8-4, falling to 5-10 on the season despite key offensive additions.
The lineup, which continues to fluctuate day-in and day-out as players are added and removed from Nashua's roster, has only scored more than four runs twice since June 5, averaging just less than four runs a game over that eight-game span.
The final changes to the Silver Knights' roster will be made Thursday, bringing at least some level of consistency to a team that has struggled to find it.
Leading the way offensively on Sunday was Nashua catcher Greg Bozzo, who collected two singles in his Futures League debut. Third baseman Matt Orlando, also making his Nashua debut, walked twice in four trips to the plate. Logan Ott chipped in with a single, walk and RBI.
While the Silver Knights collected only five hits in the game, they walked six times and reached base via hit by pitch a handful of times.
They scored all four of their runs in the fifth inning, with two runs coming across the plate on two bases-loaded hit by pitches. A passed ball and sacrifice fly scored the other two runs.
Aidan Crowley gave up four runs — three earned — over four innings in his second start of the season. He struggled especially with command, walking five batters and striking out only four.
Crowley has been back and forth between the bullpen and starting rotation this season. In four outings, he's made two relief appearances and two starts, finding the most success in his June 5 start against the Norwich Sea Unicorns.
That time out, Crowley pitched five innings and gave up one earned run. While he may have gotten somewhat lucky — he gave up six hits and three walks — he'll be looking to return to that form his next time out, whether in relief or starting.
George Welch and Gabe Driscoll allowed two earned runs each out of the bullpen, putting a win out of reach for Nashua. It was the first runs Driscoll allowed all season after 5.2 scoreless innings of work over four games.
Graham Jeffries didn't give up a run in his 1.2 innings of relief, returning to his early-season form after a rough last outing. He gave up three earned runs his last time on the mound but now has three scoreless appearances under his belt.
The Silver Knights will have an off day Monday before returning to action at Holman Stadium Tuesday against the Vermont Lake Monsters. First pitch is scheduled for 6 PM.