News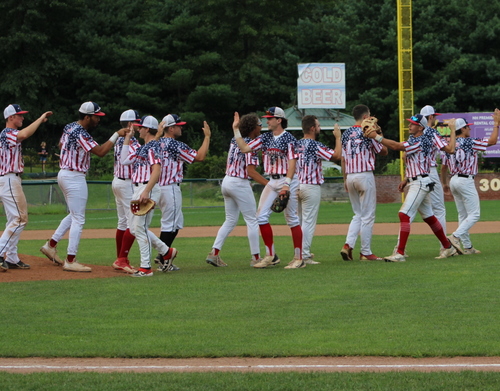 Wednesday, August 11, 2021
By Mark Colley | Silver Knights media relations | @markcolley on Twitter
The strong pitching continued for the Nashua Silver Knights on Wednesday, as they won 2-1 against the New Britain Bees to extend their winning streak to three games.
The three wins — all against New Britain, with two coming in a doubleheader sweep on Tuesday — have launched the Silver Knights into sixth place in the Futures League with three games left this year.
Noah Wachter pitched 4.2 innings of one-run ball in his second start of the season, continuing to prove himself as one of the most reliable pitchers on the team. His performance was followed up by Nick Remy, George Welch and LT Pare, who combined to pitch 4.2 innings with only one hit and one walk.
Welch was particularly strong. He's struggled with command at points this season and entered Wednesday's game with a 6.61 ERA, but he struck out three of the four batters he faced, only allowing a single.
In Tuesday's doubleheader, pitching also carried Nashua to two wins. Nick Guarino pitched a complete-game shutout in game one, while Shea Ryan and the Silver Knights bullpen allowed only two runs in game two.
On Wednesday, the little offense Nashua got came in the second and fourth innings. John Mead hit a solo home run in the second and Linn followed it up with a solo shot of his own in the fourth.
Only two other Silver Knights reached base. Jack Penney singled while Brady Desjardins walked twice in his three trips to the plate.
The Silver Knights will play their final home games on Thursday, when they face off against the Brockton Rox in a doubleheader. Game one is scheduled to start at 3:00 PM.