News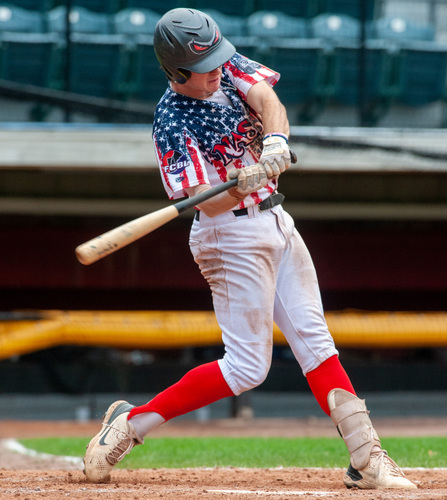 Sunday, August 1, 2021
By Mark Colley | Silver Knights media relations | @markcolley on Twitter
Grinning from ear to ear and dripping wet from a post-game Gatorade shower, Sam McNulty had only four words to describe a banner day: "The Knights are hot."
Indeed they are. Finding the evasive magic that makes good teams great, the Nashua Silver Knights clicked on Sunday, sweeping a doubleheader against the Westfield Starfires and winning their fourth and fifth consecutive games.
It's the longest win streak of the season for Nashua. They accomplished the feat with a mammoth, out-of-the-blue comeback in game one and mettle-testing game two, relying on opportune hitting and just enough solid pitching.
McNulty was the star of the show and rightfully so: Between both games combined, he went five-for-seven with six RBI. That included two home runs in his first two at-bats of game two, along with a two-RBI single in the sixth inning of that game.
But his biggest hit was what came in the sixth inning of game one: a two-out double to put two runs on the board and change a 3-0 ballgame to a 3-2 ballgame. It brought Nashua within one in a game they trailed in from the get-go.
Will Maclean and Jackson Linn immediately followed McNulty with a single and home run. By the end of the frame, the Silver Knights led 5-3; they never looked back.
After game two, McNulty was giddy — or simply freezing from his Gatorade shower in the cool Nashua night. While he lost his 10-game hit streak on Friday, he still holds a 13-game on-base streak. What's behind the success?
"I just got good pitches to hit," McNulty said with a laugh. "Luck."
Reliever Zach Gitschier chipped in with his own theory while walking past: "His calf work!"
McNulty drove in four of Nashua's six runs in game two, but the 6-2 win took on a different tenor than game one. Instead of stringing together an improbable comeback, the Silver Knights took an early 2-0 lead and coughed it up in the fourth inning.
Tied 2-2, Nashua wasted no time in taking the lead back. They scored two in the fifth and two in the sixth to win the seven-inning game.
As much fun as this team is having — it's the best they've played all year, and it shows in the tenor of the clubhouse — the realities of this season remain the same. Even after a five-game win streak, the Silver Knights still sit 5.5 games back of a playoff spot with 15 games left to play.
So what is motivating the Silver Knights when any shot of making the postseason is practically out of reach? It's the team itself.
"It has nothing to do with the coaches," said pitching coach Ariel Ramos, who managed the last three innings of game two after manager Kyle Jackson was ejected. "It has to do with them playing with a chip on their shoulder."
Ramos said this season is no longer about anyone else.
"[It's] understanding that, hey, we gotta play for each other. Not for the front office, not for the ownership, not for the coaches," Ramos said. "It's gotta be for us."