News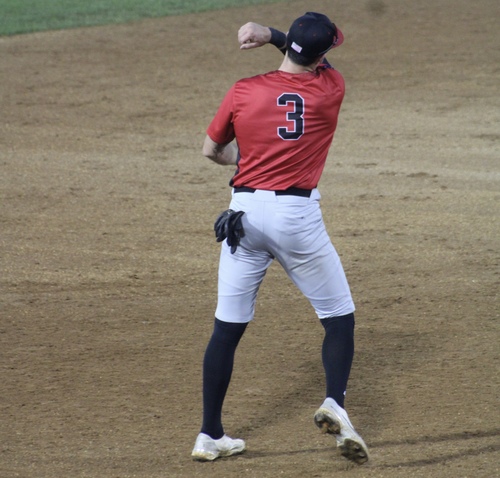 Friday, July 16, 2021
By Mark Colley | Silver Knights media relations | @markcolley on Twitter
A two-homer night from Connor Hujsak wasn't enough for the Nashua Silver Knights, who lost 5-4 to the Worcester Bravehearts on Friday night.
The loss snapped a three-game winning streak, the longest of the season for the Silver Knights.
Hujsak's homers — one of which came in the bottom of the eighth to pull within one run of Worcester — were his first two of the season. Previously, he had only hit home runs in a game-ending derby on July 11 and the All-Star Game derby on July 12.
Manager Kyle Jackson said earlier this month that the hitters at the top of the lineup would turn things around if given the chance. Hujsak was hitting .189 through his first 19 games of the season with only four extra-base hits.
Now, in the last three games, Hujsak has doubled his extra-base hit total for the season. Jackson said Hujsak has been working on his swing and drawing better counts.
Hujsak echoed that sentiment. He said his primary adjustment from playing at Virginia Commonwealth University to playing with Nashua is improving his pitch selection.
"One spot, one area, as long as I can until I've got two strikes," Hujsak said of his approach.
Hujsak's first home run of the night came in the first inning, erasing the run Worcester scored in the top half of the frame and giving the Silver Knights an early 2-1 lead. But Worcester tied the game in the third and went up by three runs in the fifth.
With Hujsak's eighth inning homer, it looked like Nashua was writing a comeback story, but it wasn't enough. In the end, Hujsak drove in all four of the Silver Knights' runs.
While starter Griffin Young gave up three earned runs — plus two unearned — in 4.1 innings, LT Pare impressed out of the bullpen. Pare pitched 2.1 shutout innings, allowing two baserunners and nothing more.
Friday's loss came one day after Nashua romped the Brockton Rox, the best team in the league, 16-3. It was the largest win margin of the season and the most hits the team has had in a single game.
Jackson said Brockton's pitchers on Thursday relied on fastballs and allowed the hitters to get ahead in 2-0 and 3-0 counts. On Friday, however, the Bravehearts kept Nashua off-balance with a repertoire of fastballs, curveballs, sliders and changeups.
Still, Jackson was happy with the performance.
"They put the ball in play," Jackson said. "They want to make this a comeback story from last place to getting in the playoffs. I'm happy with how they played."
The Silver Knights will return to Holman Stadium on Saturday with a 12 p.m. game against the Brockton Rox. It will be broadcast on NESN, one of four Futures League games being broadcast this season by the regional sports network.